The Room
Rugs are quickly becoming an imperative part of decision making when it comes to the decor in our homes. A new rug can completely transform a room or space, but knowing what rug to choose can be tricky, especially with such a wide variety available. 
We want you to get the most out of your rug. So, we've created a buying guide which we hope will help you find the right rug for your space.
Let's start with the space your rug's going to live in.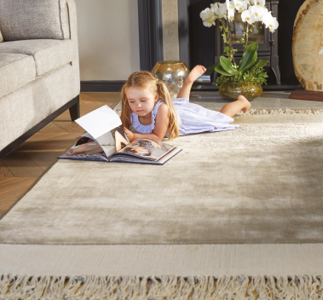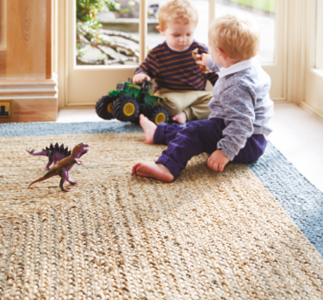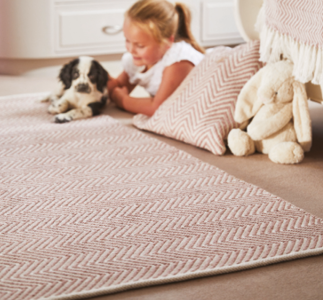 Living room:
The best rug for a living room depends on your furniture. It's best that a rug is big enough so at least the two front legs of a sofa or chair are on the rug, with some space either side. And while comfort and design are important, for a room that will be used quite often, it's also best to opt for a rug that is durable and easy to maintain.
Kitchen:
Flatweave rugs are our go-to for kitchens as they are easier to clean than high pile rugs, and kitchens can get very messy - especially if you have a dining table. If your rug is going to be placed underneath a dining table, we would recommend it be about four feet longer and wider than your table to ensure you can slide your chair in and out without it getting caught on the edges.
Hallway:
A runner is a fantastic idea for a hallway. Not only will it bring the space to life, adding warmth to your home, it will also protect your floors from the high footfall it's likely to experience. Consider your runner size just like you would any room, leaving enough space around it so it doesn't touch any walls or a staircase.
Bedroom:
Bedrooms tend to be more private and have less traffic than other rooms in your home, which means you can enjoy a more plush, luxury rug. Sheepskin rugs are very popular for bedrooms and feel lovely as you step out of bed in the morning.
Office:
Again, because your office won't experience much traffic, you have a bit more freedom when it comes to choosing a rug. A popular choice of rug for an office is a jute rug which will help create a trendy aesthetic and overall calm atmosphere to work in.
Outdoor:
For outdoor rugs, bigger is always better. A rug that is 30-60cm shorter than the space's perimeter is ideal. You'll also want a rug that is easy to clean, so a low-pile, washable rug is definitely best.